Summer Concerts in the Valley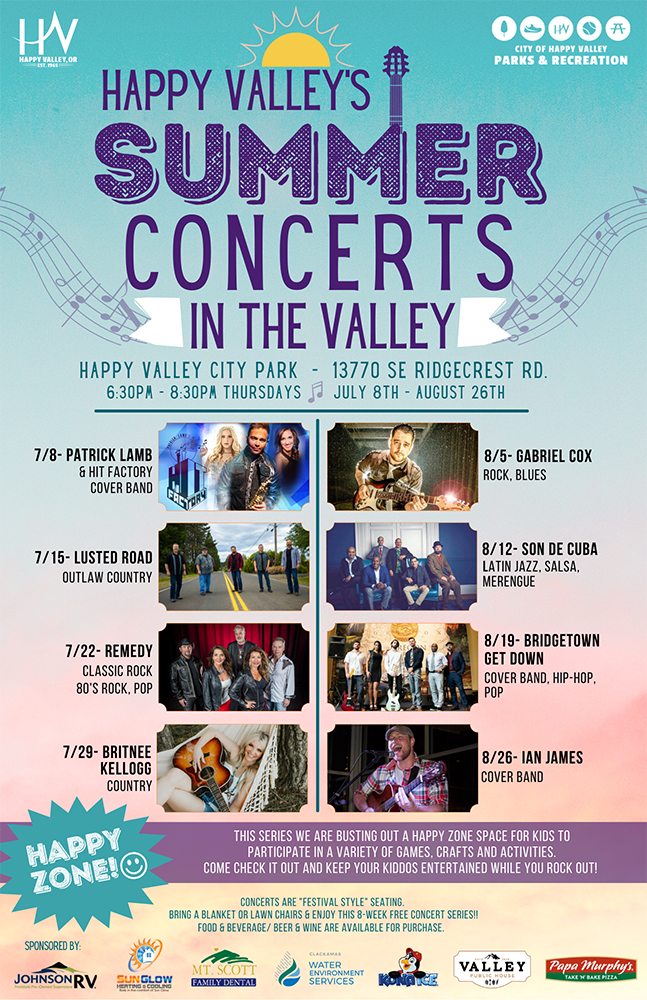 Happy Valley Park will be the place to be each Thursday night, starting July 8th. This summer we have a great concert line-up planned, with old favorites and new faces. Concerts are from 6:30 – 8:30 p.m. Hope to see you there!
July 8 – Patrick Lamb
Award-winning Patrick Lamb is a producer, singer, and song-writer bridging together his love of funk, R & B, soul and jazz with his southern roots.
July 15 – Lusted Road
Lusted Road, a five-piece original music group with an archive of new material influenced by Classic Rock, Blues, Country, and other music that makes you want to sing along. Previously known as the Portland cover band Midlyfe Crisis PDX, combined, these fellas have been in the music scene for decades.
July 22 – Remedy
Remedy is a 5 piece, high energy, rock performance dance band, playing the best dance songs from the 70's, 80's & 90's!
July 29 – Britnee Kellogg
Britnee is a county singer-songwriter and plays both originals and cover. Her sound has been compared with Miranda Lambert and Reba McEntire.
August 5 – Gabriel Cox
Rock, Blues
August 12 – Son De Cuba
Latin Jazz, Salsa & Merengue. Son De Cuba blends this vast knowledge of different beats together in classic and modern Latin songs, exuding energy, happiness, and encouraging you to dance!
August 19 – Bridgetown Get Down
Bridgetown Get Down plays a wide variety of music from modern artists such as The Weekend, Bruno Mars, Dua Lipa and Portugal, The Man to popular classic artists like Prince, Michael Jackson and Pat Benatar as well as a whole lot more!
August 26 – Ian James
The musical love-child of James Taylor & Michael Jackson!