Meet Roland H. Nomie, DMD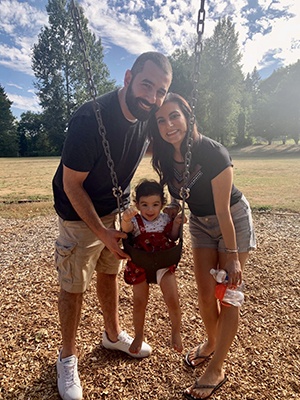 Dear Valued Patients and Community Members,
I am pleased to announce my commencement at Mt. Scott Family Dental. I have known Drs. Craig Howe and Ryan Donnelly for the past several months, and I am grateful to be working under their mentorship. They are full of compassion and truly embody what it means to be healthcare providers. To tell you a little about myself, I grew up in Gresham, OR and attended Portland State University. There, I majored in Biochemistry and Molecular Biology. In 2011, I set out for Glendale, AZ where I obtained my Masters in Biomedical Science and subsequently my Degree in Dental Medicine from Midwestern University – College of Dental Medicine. In 2016, I began practicing dentistry in Bethlehem, PA. In early 2019, my family and I decided to move back to the Northwest. I have been working in the Northwest for the past year and a half, and I am delighted to call this community my home. I am excited to be working within my local community and to be able to devote myself to this practice.
Some interests that I have are spending time with my wife, Amanda, and my little girl, Layla. The Northwest has such beautiful scenery to offer, and I would love to hear about some of your favorite places to visit. I enjoy spending time with my extended family and watching sporting events together. I enjoy watching movies too, so I would love to hear what your top favorite movies are. While in school, a considerable amount of my time was spent volunteering throughout the community. I truly believe that the best form of healthcare is preventive, which requires information and instruction. I plan on continuing this practice towards those goals. Providing the best care to my patients is of utmost importance to me. In my remaining spare time, I like to educate myself on the various aspects that dentistry has to offer. These insights into the dynamic field of dentistry are aspects that will be passed down to you – my patients.
I am excited to meet you all and look forward to progressing your dental care together. It is my privilege to start this wonderful adventure at Mt. Scott Family Dental.
Sincerely,
Roland H. Nomie, DMD